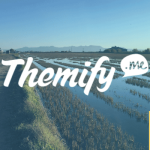 Making beautiful websites with Themify
Throughout my day to day, I can be working on up to 4 different website projects at once, and managing them all can be a challenge. However, the one tool I can always rely on is Themify.
Themify is the software I use to build beautiful, responsive and fast websites with Wordpress. There are many different premium theme builders out there, but I have found Themify to be the most customisable and feature packed.
Firstly, the fact that it is so customisable means that I can build dozens of websites that all use the same theme, but look completely different. You won't believe me when I tell you that nearly all of my previous clients are using the same theme with their Wordpress setup.
Secondly, the Themify Builder functionality means I can train clients on how to make changes themselves. The front end editor makes it super easy for you to go in, quickly change that image or bit of text, and carry on with your day.
I wanted to go over my 6 favourite Themify features from the Ultra theme, and why I use them every time.
1. Responsive out of the box
Themify themes have exceptional responsiveness. You can change how things look for desktop, tablet landscape/portrait and for mobile. With each block you can choose whether it displays on each different device type, tailoring the experience for your user.
Additionally, it has several different options for you to choose how the mobile menu is displayed and at what pixel width it is triggered.
2. Blocks, grids & alignment! 
Most premium Wordpress Theme's have block building features built in, and now even Wordpress with the new Gutenberg editor!
However, Themify in my opinion has the most functionality. You can split blocks up, remove the gutter, change the alignment and even customise the width of each block by simply dragging.
3.  Customise EVERYTHING
Most themes allow you to only control certain aspects of the design.
When you go into the advanced section of the Customiser, you will be very surprised with just how much you can change with no coding.
Additionally, for those moments where it isn't available there is a custom CSS field built right in.
4. Regular compatibility, feature and plugin updates
Themify also comes with many different plugins, such as Audio Dock, Post Type Builder and Maps Pro. These all add huge functionality to your site, and are regularly updated.
When doing a project with me, if you opt for my fabulous hosting you get FREE Themify updates.
---
If you have any questions, or want to discuss what features your site could have, get in touch!
Thanks for reading,
Harry